Find Great Careers and Benefits at Fremont's 2nd Drive Thru Job Fair on July 30th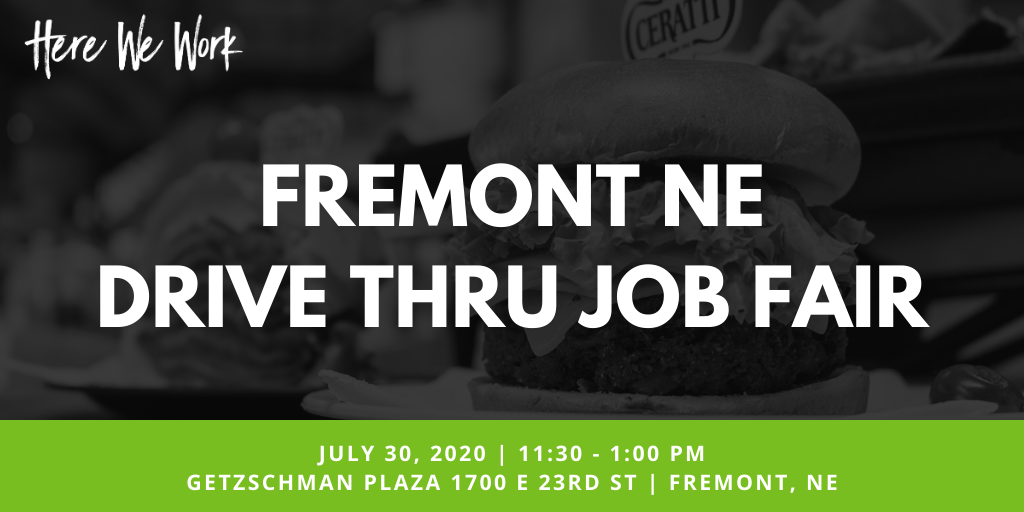 The Greater Fremont Development Council (GFDC), Fremont Chamber of Commerce (FACC) and the MFG3030 initiative have come together for a 2nd Drive Thru Job Fair on July 30th from 11:30 to 1:00 at Getzschman Plaza located at 1700 E 23rd St. Over 27 local companies are participating and looking to hire RIGHT NOW.
Tara Lea, Executive Director, FACC, "We're visible from 23rd Street, and they just kind of roll in and roll through," she said. "It's a super quick process where we just hand out the envelopes, so there's not a lot of sitting around time involved."
During the event, job seekers will have the opportunity to pick up a packet without having to leave their car. Because of COVID-19, we are limiting contact to protect job seekers.
Stephanie Schurkamp, Director of Business Services at GFDC, "We still had packets left from the first Drive Thru Job Fair that was held on July 15. We wanted to give a second opportunity to job seekers to pick up a packet at a different time of day."
Fremont Here We Grow Jobs
Fremont is a growing community. Even in the midst of a pandemic, Fremont companies are expanding and hiring for a variety of positions. Each company has protocols in place to ensure the safety and health of their employees. Now is the right time to find a great job in Fremont, Nebraska. Your dream job could be awaiting you. Fremont. Here. We Grow. Fremont. Here. We Work.
Unable to pick up a packet on July 30? Follow Fremont Here We Grow on Facebook. We continue to post new job opportunities as they come available.

Frequently Asked Questions About Fremont's Job Fair
Do you have anything over minimum wage?
Yes! Companies are offering competitive wages and benefits. For example, Structural Component Systems has positions that start at $17+ per hour.
What type of jobs are companies hiring for?
A huge variety of companies are hiring in Fremont, so jobs range from certified nursing assistants to human resources, operations, manufacturing positions, restaurant work, bank tellers and more.
Are companies hiring for day shifts?
Yes, we have companies that are hiring for both day and night shifts.
What industries are hiring at the job fair?
27 companies are hiring in Fremont and participating in the job fair. Industries include sales and marketing, healthcare, in-home health, manufacturing, food processing, banking, skilled trades, restaurants, and more.
Work for a Great Company
Here is what some hiring companies had to say -
"We are excited to be part of Fremont. We are a newer company with innovative technology. We offer benefits including health, dental and insurance, a 401k, sick time, and bonuses. We are a great place for people to work. What's most important to us is to take good care of our employees and try to provide employees with a lot of support," said Jessica Kolterman Chief Administrator at Lincoln Premium Poultry. She continued, "We have a great list of jobs available. General production, machine operators, trimmers, packers, maintenance, human resources and live operations – people who work on the farms."
Brandon Peterson with DPA Auctions and DPA Impact said, "We have a lot of great jobs for a lot of great people. If you're looking for that family-oriented company – we are it."
"If you're looking to get your foot in the door with healthcare, temporary nurse aids is where it's at. We are offering on the job training and will actually pay for you to get that CAN certification. We also offer tuition reimbursement and competitive wages," said Jenny Nye with Nye Health Services. They are hiring for a variety of positions at their five campuses that includes healthcare, transportation, office and maintenance work.
PROMEDCARE is looking for full time and part time CNA's, medical aids, and nursing students. Judy Getzschman "We are offering full time and part time positions. We take care of people in their homes."
Diane Mallette and Beto Chavez with Structural Components Systems, "We are one of Fremont's largest employers and proud to say that we are family-owned and operated with around 450 employees. We have around 20 open positions ranging from logistics to operations. We offer a four-day work week so you have a three day weekend to spend with friends and family."
Jennifer with Fremont Beef Company, "We have day shift positions available. We have a great benefits package. It includes medical, dental, and vision. We also have very competitive wages. Come join our team!"
Big Dog 98.9/1340 and Mix 105.5 KFMT are hiring salespeople to sell radio advertising and digital advertising in the Fremont area and Omaha. "We can teach you the things you need to know to sell and help businesses grow. We are also looking for people to work on the weekends to help with local events and in the studio."
Travis Sorensen "We have a culture of winning here, the best pizza in the city and a family fun environment. It's a great culture to work in and we've worked hard to develop that. We want you to become part of our team. If you want a company you can grow with then Valentino's is your company."
Kristy Pafford with First State Bank & Trust Company, "We are looking to add exceptional, amazing people to our staff… we invest in our employees and our community." They are hiring for part time teller positions.
Rob Reed with the Autism Center said, "We are always looking for good quality people. It's a great job to get to help somebody and make their day a little bit brighter… we work around school schedules and would love to have you apply."
Kevin Eairleywine at Fremont Public Schools, "Join Tiger Nation. If you want to be a para, food service worker, bus driver, substitute teacher – we have a ton of opportunities."
Getzschman Heating's Gunnar Guenette said, "We've got installer positions, service and maintenance tech positions. This is a great company, been in business since 1960, most people have been here over 10 years and some 30 years."
Watch Employer Videos
Lincoln Premium Poultry
https://www.facebook.com/watch/?v=421187652171281
DPA Impact
https://www.facebook.com/watch/?v=196936098419119
Nye Health Services
https://www.facebook.com/watch/?v=1343671862474620
PROMEDCARE
https://www.facebook.com/watch/?v=1343671862474620
Structural Component Systems
https://www.facebook.com/watch/?v=2357039981257989
Fremont Beef Company
https://www.facebook.com/fremontareachamber/videos/701209967365989/
Big Dog 98.9
https://www.facebook.com/watch/?v=607279253552084
Valentinos
https://www.facebook.com/watch/?v=2744556592443607
First State Bank & Trust
https://www.facebook.com/watch/?v=292905105242755
Autism Center
https://www.facebook.com/watch/?v=195868725188372
Fremont Public Schools
https://www.facebook.com/watch/?v=985511705235211
Getzschman Heating