Megan Skiles Joins Greater Fremont Development Council As New Executive Director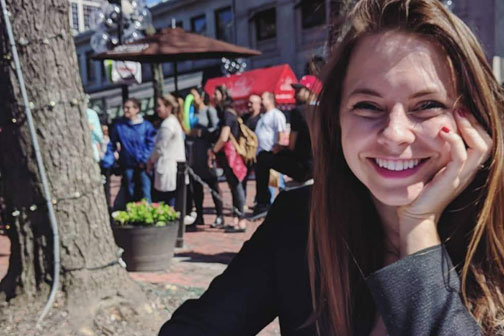 Her Business Development & Site Selection Experience Will Benefit the Organization
Fremont, Nebraska. September 28, 2021. Megan Skiles has joined the Greater Fremont Development Council (GFDC) as its new Executive Director. Having come from the Greater Omaha Chamber Economic Development Partnership, Skiles has worked to advance economic growth in Dodge County and is familiar with the region's many advantages. "Fremont and Dodge County will benefit from Megan's regional knowledge, strong network, and history of business attraction and site development. We are pleased to have her leading our economic development initiatives and look forward to supporting her efforts," said Al Sawtelle, Chairman of the Board for GFDC.
For the past five years, Skiles worked for the Greater Omaha Chamber Economic Development Partnership, a partnership of 7 counties, Dodge County being one of them. She filled a variety of roles including Economic Development Specialist and most recently, she was the Business Attraction and Expansion Manager. "I was involved with a large variety of projects and understand both the site development and site selection process - something critical for the continued growth of Dodge County." She added, "My experience with the Omaha Partnership has equipped me to respond quickly to site selector requests, collaborate on workforce initiatives, put incentive packages together, and ensure that Fremont and Dodge County has a seat at the table."
In addition to responding to inbound requests, Skiles participated in several business recruitment trips, visiting states like New York and California, in addition to traveling overseas. "We worked to create awareness of Nebraska and our many regional advantages. Companies outside of the midwest, and especially overseas, are unaware of where we are and what we have to offer. I believe in our value proposition and look forward to being a champion for Dodge County," she said.
When asked what the county's greatest advantages are, she said, "We offer businesses the best of both worlds. In Fremont, you can enjoy the feel of a small-town community with amenities, good schools and housing for employees. Simultaneously, we're in a transportation corridor and have access to the airport and population density of nearby Omaha." As for Nebraska as a whole, Skiles says it comes down to accessibility. "The accessibility in Nebraska goes far beyond our location and infrastructure. It transcends all aspects of doing business. If you need to work with another company, you have access to their management. If you want to partner with local educators on workforce development, their door is open. If you need to speak with a policymaker or even the Governor, you can do that in Nebraska. That accessibility is not common and makes it much easier to do business."
Though familiar with the area, Skiles looks forward to learning even more about Fremont and Dodge County from the people who know it best. "Even though I've supported the county's economic development for five years, I realize that I don't know it as well as the residents, business owners and leaders who have built this community. My goal is to meet with as many people as I can, hear their stories, learn about their successes and challenges, and discover how they see Fremont. There are a lot of opportunities we can pursue. Part of my job is to understand the vision the community has for itself so GFDC can heavily pursue the opportunities that line up with that vision," she said. Community members and business owners are invited to contact Megan Skiles to have those conversations.
To learn more about the advantages of locating in Fremont and Dodge County, contact GFDC.
Contact:
Megan Skiles
Executive Director
Greater Fremont Development Council
Megan.skiles@fremontecodev.org
About the Greater Fremont Development Council
GFDC is a 501(c)6 public-private partnership that works diligently to fulfill its mission to provide leadership for Greater Fremont Area growth initiatives and aggressively pursue targeted growth opportunities that will result in quality job creation and retention.