A Port Authority in Landlocked Nebraska?
During the 2021 Nebraska Legislative Session, a bill was passed into law creating the Nebraska Municipal Inland Port Authority Act. Greater Fremont Development Council (GFDC), in partnership with City and County leaders, immediately began working behind the scenes to start forging a path for this opportunity in the community. At the end of January 2022, the Fremont City Council and Dodge County Board of Supervisors unanimously approved an interlocal agreement allowing the region to pursue Nebraska's Municipal Inland Port Authority Act, designating an area and mechanism for industrial development, and taking the first step towards becoming one of five Port Authorities that will be created across the state.
Since then there has been plenty of conversation about how establishing a Port Authority will be transformational for Fremont and Dodge County, but what exactly is a Port Authority?
In short, the Port Authority is its own quasi-governmental body with certain powers over a set geographic boundary (the Port Authority District). These powers create a mechanism for the funding and site development, and can help alleviate some of the burden of infrastructure development from the city and county. The mission of the Port Authority is to give Nebraska a needed economic development tool to create and develop large industrial sites and attract business to the state.
What all can a Port Authority do?
Plan, facilitate and develop the district including public infrastructure and other site improvements, either alone or with other entities.
Issue Revenue Bonds (the district cannot sell General Obligations Bonds) and the State of Nebraska has no liability for these bonds.
Acquire, own, construct, lease and sell real and personal property, and enter into contracts to pursue the business of the district.
Borrow money and accept gifts, grants, appropriations, and loans from government agencies.
The city does have the ability to annex into the Port Authority in the future, and property taxes will still be required by privately owned real estate within the district.
So why now?
Year over year, more companies and businesses have been looking at Fremont and Dodge County as an opportunity for growth and expansion, and there are many things that are attracting these companies to Nebraska communities, however there have been a number of quality projects we have lost to out-of-state communities, who have the ability to deliver sites and the necessary infrastructure in a shorter timeline.
Fortunately, the Nebraska Municipal Inland Port Authority Act was passed into law to help Nebraska communities to be more competitive and increase our odds of success. It will allow our region to begin planning and give us a tool to think ahead of development, instead of being reactionary.
In today's global supply chain crisis, site selection is really a site elimination process and speed-to-market is the game-changer. This is a timely initiative that will position Dodge County, Nebraska to respond to the global supply chain crisis and position ourselves as a solution to the problem.
What could it look like?
The Inland Port Authority will take time to develop, and will likely see spurts of activity over a decade or longer. The Greater Omaha Economic Development Partnership developed a potential impact analysis on behalf of GFDC:
Analysis assumes 12 projects over 10-year period
5 manufacturing projects
7 warehouse/distribution projects
Construction Period
$917.5M construction activity annually
Support 1,053 jobs per year locally

Operational Period
$872.1M impact locally
$1.1B impact to state economy
Supports 3,514 jobs locally
Supports 4,454 jobs in state economy
So, what's next?
The Fremont/Dodge County Port Authority will have to be approved by the Nebraska Department of Economic Development before it is deemed created. After the Port Authority is officially created, a board of directors will be appointed by the Mayor of Fremont and approved by Fremont City Council and the Dodge County Board of Supervisors. The newly appointed board will then have the task of creating bylaws and begin planning for the district! Greater Fremont Development Council will continue to support this project along the way and work with potential tenants to the Port Authority District industrial park.
Megan Skiles, Executive Director, Greater Fremont Development Council
More Topics
Fremont City Council and Dodge County Board of Supervisors unanimously approved an interlocal agreement allowing the region to pursue Nebraska's Municipal Inland Port Authority Act, designating an area and mechanism for industrial development. GFDC is eager to continue supporting this tremendous project for our community! Click here for the complete article.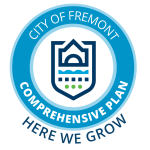 The City of Fremont is updating its Comprehensive Plan, a major undertaking that will guide future growth and development in Fremont for the next 20 to 25 years. The new plan will include updates to the Unified Development Code (UDC) and the Long Range Transportation Plan (LRTP). The Comprehensive Pla...
This is an event that focuses on diversity, equity, and inclusion. The event is put on by the Greater Omaha Chamber partnership, and was a hybrid of online and in person sessions. GFDC's own Lauren Foster and Kelsey Martinez no only had the opportunity to not only attend, but t...