FREMONT DESIGNATION AS A NEBRASKA MUNICIPAL INLAND PORT AUTHORITY MEANS BUSINESS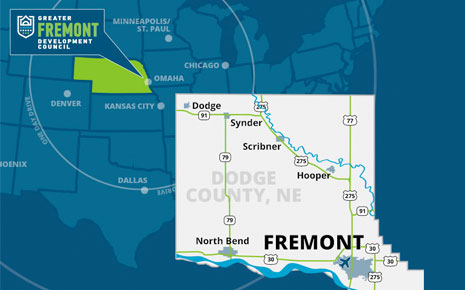 The state of Nebraska's first inland port authority gives Fremont's future new momentum. The new port authority district is 1,500 acres of prime land for industrial development just south of the city of Fremont in Dodge County, Nebraska.
(FREMONT, NEB.) – For city and county leaders, the Fremont-Dodge Municipal Inland Port Authority is a catalyst to attract new businesses, expand global trade and give local manufacturers an efficient way to reach new markets. How? Community partners see a Port Authority District anchored by a transportation hub, equipped to keep products moving in all directions.
Fremont Mayor Joey Spellerberg says the port authority district is a "great opportunity to leverage the many advantages of doing business in our community and contribute to a growing state economy." Just last year, an Omaha Chamber analysis projected annual statewide impact, at full occupancy, over $1 billion after ten years.
Also in play, port authority mechanisms to put site and infrastructure improvements on a fast track. In the make-or-break game of site-selection, the Fremont team expects more developer-friendly conditions that few cities and counties could pull off alone.
Bob Missel, chairman of the Dodge County Board of Supervisors, thanked the state of Nebraska for its support. He said, "We deeply appreciate this vote of confidence to move Fremont's future forward."
Until now, the Greater Fremont Development Council has broadly focused on advanced manufacturing, warehousing, and agribusiness for the vast multi-business industrial park, just outside the city of Fremont and east of U.S. Highway 275. Increasing inquiries suggest growing interest in a site with multiple advantages.
BUILT-IN SITE ADVANTAGES
Central location for easy access
Adjacent to Union Pacific Railroad lines
Bordered by U.S. Highways 275 & 77
Connected to top public utilities.
Thanks to an infusion of some $30 million from the state of Nebraska Rural Projects Act, the Greater Fremont Development Council will soon have an engineering firm on board to develop a detailed site plan. GFDC executive director Megan Skiles says it will be a tool to understand the site's ideal uses and how the best mix of businesses might come together. She added, "It's an important investment to make sure this project is a win for the entire community."
---
Greater Fremont Development Council (GFDC) is a nonprofit organization dedicated to the growth and prosperity of Fremont, Nebraska. The public-private partnership fosters a thriving environment for new and expanding businesses to grow. GFDC welcomes prospects to explore Fremont's strong sense of community and development-friendly advantages including centrally located sites, proximity to major rail lines, easy interstate access via four lane highways, top public utilities, and strong government partnerships. Find efficient and friendly resources to grow your business. Visit GFDC. www.fremontecodev.org